Features of Tencan Laboratory Full-directional Planetary Ball Mill


1.The machine makes 360 degree planetary movement without any dead corner, so the ground powder is much smaller and more even
2. Gear transmission ensures to keep consistency and repeatability of experiment.
3. You may get four different powder samples at one time.
4. Variable frequency controlled and program controlled.
5. It solves the problems of materials sinking and sticking to the pot.

Advantages of Tencan Full-directional Planetary Ball Mill


Professional out looking design and industrial modeling of the ball mill shell with lean manufacturing make machine exquisite and fine. CNC processing technology is adopted for making machine-added parts, and precision gears with special materials are selected for transmission gears to ensure smooth, safe and low noise operation of the ball mill at high speed. Overturning motor has function of brake locking, which can stop overturn at any angle, it is safe and reliable. Ball mill is easy to be operated due to touch screen of micro-computer as its interface is simple and intuitive. This kind of ball mill can realize forward and backward alternating control, and has functions of timing and power-off memory.
A wide range of powder can be ground by our planetary ball mill with different mill jars and balls, such as ore powder, fluorescent powder, glass powder, pigment powder and so on. Following are some powder samples for your reference.
Applications
Laboratory full-directionall planetary ball mill is widely used in geology, minerals, metallurgy, electronics, building materials, ceramics, chemical industry, light industry, medicine, environmental protection and other departments. It is suitable for lots of production fields such as electronic ceramics, structural ceramics, magnetic materials, lithium cobalt oxide, lithium manganate, catalyst, phosphor, long afterglow phosphor, rare earth polishing powder, electronic glass, etc. Production of Powder, Fuel Cell, Zinc Oxide Varistor, Piezoelectric Ceramics, Nanomaterials, Wafer Ceramic Capacitance, MLCC, Thermistor (PTC, NTC), ZnO Varistor, Dielectric Ceramics, Alumina Ceramics, Zirconia Ceramics, Phosphor Powder, Zinc Oxide Powder, Cobalt Oxide Powder, Ni-Zn Ferrite, Mn-Zn Ferrite, etc.
Application Cases of Planetary Ball Mill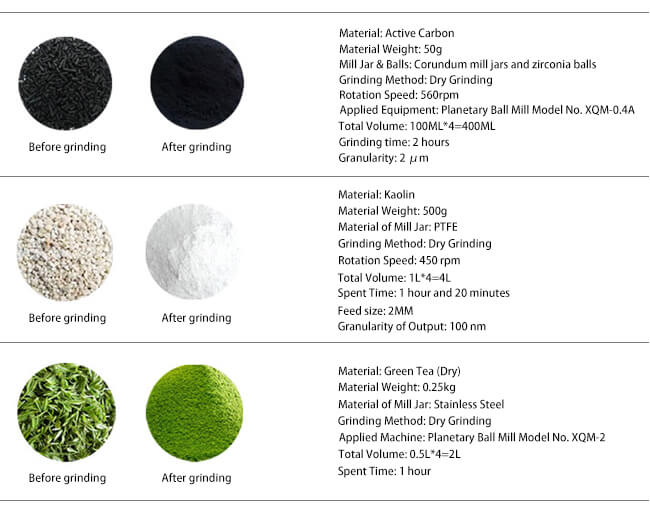 Application Cases of Planetary Ball Mill