Features of Tencan Super Mini Planetary Ball Mill (Glove Box Type)

Tencan planetary ball mill shell is welded with thick steel plate, which has high strength, impact resistance, deformation resistance, fine workmanship, strong and beautiful appearance. The material of mechanic parts is strictly processed by heat treatment process and numerical control processing technology. The gear box is adopted with quasi-sealed groove embedded structure, and the drivegear is made of wear-resistant precision gear. The machine frame and structure are fully considered in design to ensure the stable, safe and reliable operation of the ball mill under long-term and high load conditions, and to effectively achieve the effect of noise reduction in the operation of the machine. The liquid oil self-lubricating device is designed with low noise and high intensity, and it is equipped with a liquid oil level meter for easy replacement. With the touch screen of micro-computer, machine operation is becoming convenient, the interface is more simple and intuitive,forward and reversal alternating control can be achieved easily. It owns functions of timing and power-off memory.
Advantages of Tencan Super Mini Planetary Ball Mill (Glove Box Type)

1.Stable revolving speed of the gear transmission ensures the consistency and repeatability of the experiment.
2. Planetary movement principle is adopted in the machine, which has high speed, large energy, high efficiency, small granularity.
3. Four powder samples from different sizes and different materials can be produced at one time.
4. The machine is controlled by frequency converter, you may set ideal rotating speed according to expected experimental result. The converter is equipped with device of under voltage and over-current to protect the motor.
5. The planetary ball mill has functions of timing power off, self-timing forward and reversal rotating. You may select any operation modes of one-way direction, alternation, succession, time setting according to experimental needs, so as to improve efficiency of grinding.
6. Technical features of XQM-2S: small volume, more functions,low center of gravity, stable performance, compact structure, easy operation, reliable safety, lower noise, small loss.
Applications of Super Mini Planetary Ball Mill

Tencan super mini size planetary ball mill is divided into two kinds, namely planetary ball mill for glove box type (model XQM-0.2S) and planetary ball mill conventional type (model XQM-0.2). XQM-0.2S (glove box special type) can be placed inside the glove box for vacuum or inert gas protection. It greatly extends the scope of use for customer's product grinding and material research. This kind of planetary ball mill (XQM-0.2S) realizes grinding some special materials which can not be ground under normal environment .

Application Cases of Planetary Ball Mill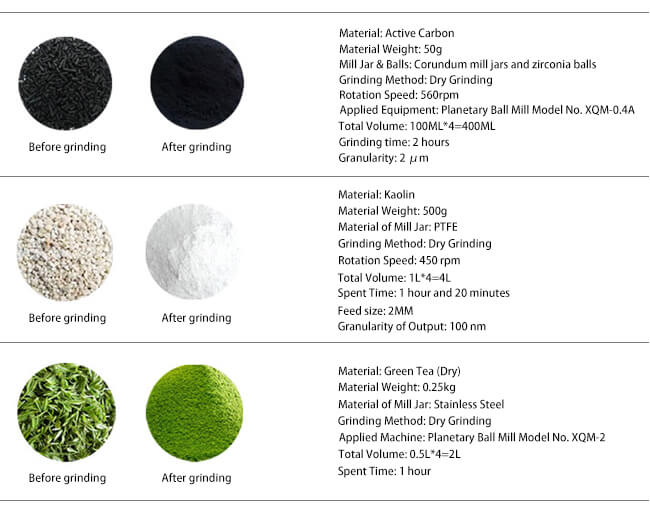 Test Report of Grinding Granularity by Planetary Ball Mill