Features of Tencan Cryogenic Planetary Ball Mill
Cryogenic (Low-temperature control) planetary ball mill is a combination of planetary mill and air-cooling device. Air-conditioning compressed refrigeration principle is applied in the air-cooling device. The heat generated by grinding can be quickly removed by air cooling gas cycle. According to the difference of ambient temperature, temperature of ball-milling space can be controlled within 5-15℃. This kind of ball mill is mainly used for ultra-fine grinding under material requirements of low-temperature technology. The air-cooling device has advantages of simple structure, convenient operation, convenient maintenance and lower energy consumption.
1. Suitable for the materials requiring ultra-fine grinding under low temperature.
2. Simple structure.
3. Easy operation.
4. Convenient maintenance.
5. Low energy consumption.
Applications

Cryogenic planetary ball mill is widely used in geology, minerals, metallurgy, electronics, building materials, ceramics, chemical industry, light industry, medicine, environmental protection and other departments. It is suitable for lots of production fields such as electronic ceramics, structural ceramics, magnetic materials, lithium cobalt oxide, lithium manganate, catalyst, phosphor, long afterglow phosphor, rare earth polishing powder, electronic glass, etc. Production of Powder, Fuel Cell, Zinc Oxide Varistor, Piezoelectric Ceramics, Nanomaterials, Wafer Ceramic Capacitance, MLCC, Thermistor (PTC, NTC), ZnO Varistor, Dielectric Ceramics, Alumina Ceramics, Zirconia Ceramics, Phosphor Powder, Zinc Oxide Powder, Cobalt Oxide Powder, Ni-Zn Ferrite, Mn-Zn Ferrite, etc.
Application Cases of Planetary Ball Mill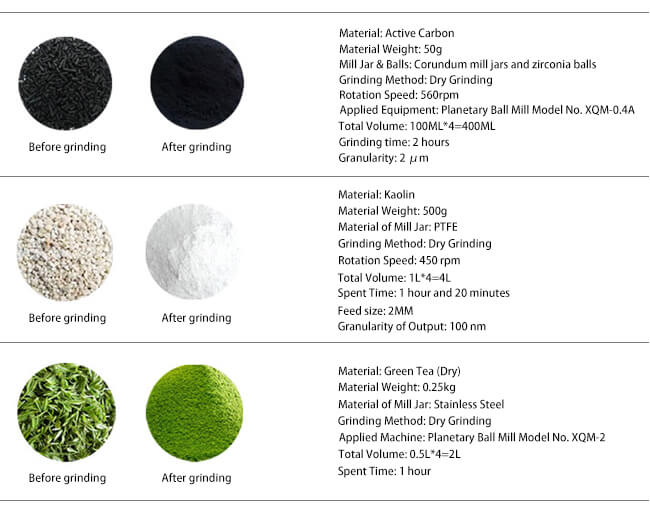 Application Cases of Planetary Ball Mill